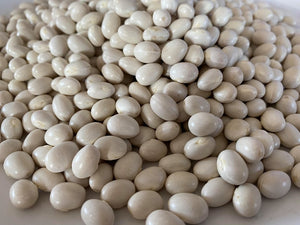 'White Marrowfat' Bean
Phaseolus vulgaris
Origin: Eastern United States
Improvement status: Cultivar
Seeds per packet: ~40 ($3.50)
Bulk seeds per packet: ~160 ($10.50)
Germination tested 11/2022: 100%
Life cycle: Annual
Looking for a reliably productive bean for Northern climates? There are lots of different beans out there, but few as good as Marrowfat — a Slow Food Ark of Taste selection. This has become a favorite for performance and taste in dry bean trials in the Pacific Northwest. Each bite is a richly-flavored scrumptious experience. Marrowfat has a firm, smooth texture that holds up wonderfully in soups or your summer party BBQ-baked-bean recipe. The pods can also be picked when green and swollen for "shellie" bean recipes or as the centerpiece of a delicious bean salad.

First listed in the 1822 J. M. Thorburn & Co seed catalog, one of its earlier names was 'White Cornfield,' hinting that the variety may be a traditional indigenous variety. A prolific producer, the plant grows dwarf vines about 2-3 ft long. Vivid white flowers contrast a background of green leaves. Pods are quite big and usually contain about 6 beans. Plants dry down and are able to be harvested mid- to late-season, but come in early enough to remove from the field before foul fall weather. Vines are easy to harvest and hold the beans well, but also thresh easily revealing white egg-shaped beans that shine like pearls.

From the collection of Chris Homanics, grown in collaboration with Sean Stratman of Dancing Crow Farm.

GROWING TIPS: Direct seed beans one inch deep. Plants could end up 4-8 inches apart in rows 14-30 inches apart.