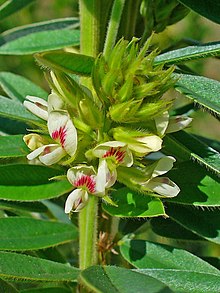 Round-headed Bush Clover
Lespedeza capitata
Origin: Eastern North America

Improvement status: Wild

Seeds per packet: ~200
BOTANICAL SAMPLE - NOT GERMINATION TESTED
Lifecycle: Perennial
A tall clover standing at 2-4' with a sturdy stem and large clusters of cream colored flowers with a splash of pink inside the cupped petals. The flower turns a dark rusty brown and persists through fall, making it a standout on a snowy background. The leaves are covered in dense hairs, giving them a silvery appearance. Round-headed Bush Clover is a nectar source for a variety of pollinators as well as forage for wildlife and livestock, as it palatable and nutritious. 

This plant had a number of medicinal uses for Native American groups, including tea.

Like all clovers, a legume, therefore it fixes nitrogen in the soil. Does well in full sun, and in medium to medium-dry soils. Blooms August to September.

GROWING TIPS: Seeds should be cold stratified for ten days before planting. Or sow in the fall, or in the very early spring, so it gets the cold stratification.