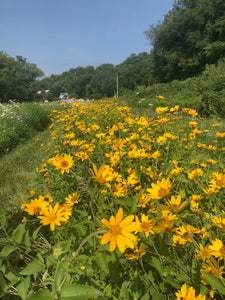 Ox Eye Sunflower
Heliopsis helianthoides

Origin: Eastern and Central North America
Improvement status: Wild
Seeds per packet: ~1,300

BOTANICAL SAMPLE - NOT GERMINATION 
Life cycle: Perennial
One of our favorite native sunflower species. Cheerful yellow blooms are prolific beginning in June and going through August. Perennial, but flowers the first year. Quite competitive, especially against annual weeds.
This seed was for foraged for by EFN collaborator Dylan Bruce, of Circadian Organics Ferryville, WI.
GROWING TIPS: Cold and moist stratify for 30 days. Then it needs light, so it should be sown on the service directly where it you intend to grow it, or on the the surface of a tray with potting soil, for eventual transplanting.