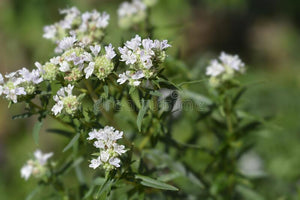 Mountain Mint
Pycnanthemum virginianum
Origin: Eastern North America
Improvement status: Wild

Seeds per packet: ~500
BOTANICAL SAMPLE - NOT GERMINATION TESTED
Lifecycle: Perennial
Mountain Mint's fragrant leaves have a powerful minty odor when even just brushing one's hand over the plant. A popular choice for pollinator gardens, its flat clusters of densely packed small white flower with tiny purple spots bloom just a few at a time. Its branching habit makes it a small bush-like plant that grows up to 3 feet tall. Found in a variety of habitats, and can be grown in medium to medium wet to medium dry soils in full or partial sun. Blooms June-September. This is common Mountain Mint (there are a few other related Mountain Mint species).
Wonderful for pollinators. Has a variety of medicinal uses, including tea.
GROWING TIPS: No stratification is needed. But needs light for germination, so lightly sow on the top of prepared soil.