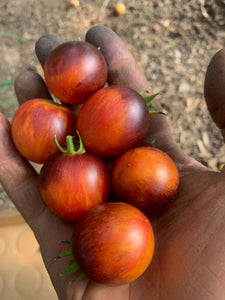 'Cosmic Mountain Sunset' Cherry Tomato
Regular price $15.00 Sale
Solanum lycopersicum
Origin: Carbondale, Colorado
Improvement status: Cultivar
Seeds per packet: ~20
Germination tested 12/2022: 92%
Life cycle: Annual
A gorgeous anthocyanin-striped cherry tomato from the breeding program of Casey Piscura and Wild Mountain Seeds in Carbondale, Colorado. Like all of the anthocyanin (blue-purple pigmented) tomatoes, this one has its original roots in the breeding program of the great Jim Myers at Oregon State University. Prior to the release of their 'Indigo Rose' in 2012, gardeners could only grow tomatoes that expressed anthocyanin (a useful antioxidant) in their inedible leaves and stems. Myers and his predecessors, including breeders in the US and Bulgaria in 1960s, worked with wild tomatoes from Chile and the Galapagos Islands which expressed anthocyanin in their fruit. They used traditional plant breeding (not any kind of genetic engineering) to cross the closely-related species. The past decade has seen an explosion in diverse new anthocyanin-expressing tomatoes being released, but while they are very pretty, few of them actually taste good enough to write home about. Casey and the team at Wild Mountain have produced the most notable exceptions we're aware of, and we're thrilled to be offering them to all of you. 


Here's what Casey has to say about this gem: "Possibly the most beautiful tomato we have ever grown. Blue-purple anthocyanin stripes appear on red-to-pink cherry tomatoes, reminding us of the magical sunsets we often see over the mountains here on the western slope of the Colorado Rockies. The interior is yellow-red and flavor is deliciously sweet with nice acidity. Towering indeterminate plants produce crack-free cherries throughout the season that keep well on and off the vine. A truly unique new cherry tomato with potential to become a backbone producer in your garden!

Limited seed available.
A note on the price of these seeds: There is a lot of talk in the organic seed world about how to properly compensate for the vital work that small-scale, organic, open-pollinated plant breeders are doing. Because, of course, once a variety is released, another seed company can get ahold of it, grow it out, and sell it themselves. This is a complicated debate, but one way to put more money in the hands of the breeder is by pricing unique seeds at a premium upon their initial release. Casey put years into the development of these seeds, and the reality is, once you buy them, you can save the seeds yourself and keep growing these varieties for years to come. We work with all of our seed growers and breeders to set prices that they believe will fairly compensate them — and we believe the price of these tomato seeds is fair for Casey, for us, and for you. Thanks.