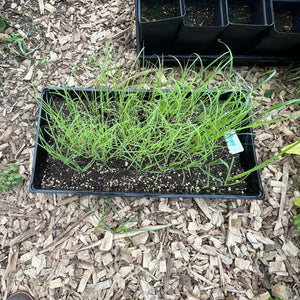 'Kobo Robit Landrace' Teff
Eragrostis tef

Origin: Kobo Robit, North Wollo, Amhara, Ethiopia
Improvement Status: Landrace
Seeds per packet: ~300
Germination tested 1/2023: 91%
Life cycle: Annual
This is a productive landrace teff originally from Kobo Robit, a small village in North Wollo, Amhara region, Ethiopia, which was grown for us in 2022 by our dear friend Nagisa Manabe (the former Executive Director of the Northeast Organic Farming Association of New Jersey) in Kingston, New Jersey, just outside Princeton. Many teffs are poorly adapted to places outside their native Ethiopia, but by trialing a few dozen from the USDA's collection we've found a few that can do well in our area, and this 'Kobo Robit Landrace' is one such. It was collected in 1967 by L.V. Peters of the Sorghum Research Division of something called EAA (which we believe is still around and called the Eastern Africa Association), based in Soroti, Uganda. It was collected with no name but instead assigned a number ("P-48"), so we've given it the name 'Kobo Robit Landrace' based on where it was found ("35k north of Weldia"). It yields a mix of white and brown seeds, which makes for excellent injera bread. 
Kobo Robit is located in a historically and politically important place. The Kobo area was invaded and occupied by the Tigray People's Liberation Front during the recent war between Ethiopia and Eritrea, until it was liberated in December 2021. It was also a base for rebels when fascist Italy invaded Ethiopia in 1936, and the site of a deadly skirmish between locals and Ethiopian soldiers and British soldiers sent to the area to collect taxes. It also has the ignominious distinction of being the place that could have helped prevent the 1973-1974 famine in Ethiopia, but didn't, after a young District Development Office named Abenaw Kasai sent a report accurately warning of famine which was rejected by the Ministry of the Interior. Abenaw Kasai was severely reprimanded and told to never send such a negative report again. 
According to our new friend Gabriel Forthal, whose family comes from Ethiopia, Kobo is in the highlands, known for harsh conditions, but he says that Robit is in a lower elevation, so this teff "may be used to better soils and weather." Perhaps this explains why it did so well for Nagisa in Princeton.
Please let us know how this beautiful grain crop does for you!
NOTE: We'll try to get a better picture up here soon — the current photo shows the flat in which Nagisa started this teff, but we don't have any pics of it in the field.