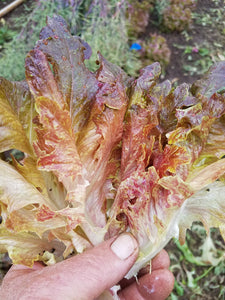 'Strawberry Oakheart' Lettuce
Lactuca sativa

Origin: Philomath, Oregon
Improvement status: Cultivar
Seeds per packet: ~150
Germination tested 12/2022: 95%
Life cycle: Annual
We just couldn't resist this beauty.

From our source, lettuce-breeder-extraordinaire Frank Morton of Wild Garden Seeds: "From the outside, this is the darkest red from the 'Camo Oakheart' gene pool, small framed plants with long pointed leaves. From the inside, leaves are strawberry red in the heart, and very tender, mild and non-bitter. The bolting stem and leaves are delicious raw or used like celtuce. Space 6-8" apart for best production."

This variety carries the Open Source Seed Initiative (OSSI) pledge, which states: "You have the freedom to use these OSSI-Pledged seeds in any way you choose. In return, you pledge not to restrict other's use of these seeds or their derivatives by patents or other means, and to include this pledge with any transfer of these seeds or their derivatives." More information on OSSI can be found at osseeds.org.