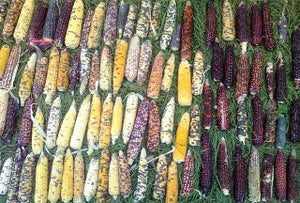 'Astronomy Domine' Sweet Corn
Zea mays subsp. mays
Origin: Paradise, Utah
Improvement status: Landrace
Seeds per packet: ~100
Germination tested 12/2022: 97%
Life cycle: Annual
Days to maturity: 65-75 days
Joseph Lofthouse of is a genius plant breeder based in Paradise, Utah, and we are very excited to be offering this sweet corn bred by him. He calls himself a "landrace seedsman", and his focus as a seed grower is on incredibly diverse populations of staple crops suitable for his very short season. Joseph has created some amazing landraces and we're honored to be selling some of them.

From Joseph: "Promiscuously pollinated. Multi-colored. Mid-season (~65 to 75 days). Selected for colorful cobs at milk stage and for resistance to predation by birds and small mammals. It has that fabulous old-fashioned corn taste: Chewy and flavorful without being overly sweet. A robust landrace that is reliable and easy to grow. Developed for subsistence level growing conditions without cides or fertilizers. An excellent choice for tough growing conditions and for people wanting to save their own seeds or to develop their own variety of sweet corn. I consider this to be the best sweet corn I have to offer for an emergency survival stash. Descended primarily from Alan Bishop's Astronomy Domine Sweet Corn which is descended from hundreds of varieties of heirloom and modern sweet corns. It has been in my garden for a long time, and has drifted significantly away from the original, so a new name seems appropriate. Very tolerant of cold spring soil."
This variety carries the Open Source Seed Initiative (OSSI) pledge, which states: "You have the freedom to use these OSSI-Pledged seeds in any way you choose. In return, you pledge not to restrict other's use of these seeds or their derivatives by patents or other means, and to include this pledge with any transfer of these seeds or their derivatives." More information on OSSI can be found at osseeds.org.
This corn was bred by Joseph Lofthouse but was grown out by our friend Olivia for seed.
GROWING TIPS: Direct seed after danger of last frost in rows about 3 feet apart, plants could end up 10-15 inches apart.