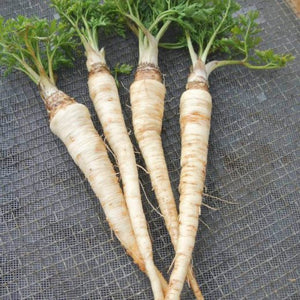 Polish Root Parsley
Petroselinum crispum subsp. tuberosum
Origin: Poland, via Oregon
Improvement status: Landrace
Seeds per packet: ~250
Germination tested 11/2022: 44%
Life cycle: Biennial
If you've never tried root parsley, you don't know what you're missing! Often confused with parsnip, which is actually a whole different genus, root parsleys are forms of parsley bred for a large edible root. The flavor is somewhat intermediate between carrot and parsnip, but that ignores the unique subtleties of its parsley root flavor. There are undeniable notes of celery root and parsley leaves in there too.

Notes on this variety from grower Frank Morton: "A strong rooted parsley selection from a Polish landrace we grew out here [in Philomath, Oregon] in challenging conditions last year. Hank Keogh selected the straightest longest roots to replant for seed production at his Avoca Farm. After 18 months we have this first round of improved seed for parsley root. Plant breeding is about patience."

NOTE: The photo used here, courtesy of our friends at Adaptive Seeds, is of another root parsley variety. It is used to give you a basic idea of what to expect.